First, I'd like to thank you all for your kind words and prayers. This week has been really, really hard. Ryan was laid to rest yesterday. My niece prayed to begin the service. The prayer was absolutely beautiful and echoed the feelings of everyone there. She is so strong. I admire her. So again, thank you everyone who gave me a call or left a comment.
So, as I was cruising the blogs this morning, I saw Kristen over at First Grade-California Style linked up with A Teeny Tiny Teacher's Linky party, 11 in 11. So, I thought I would join in, too.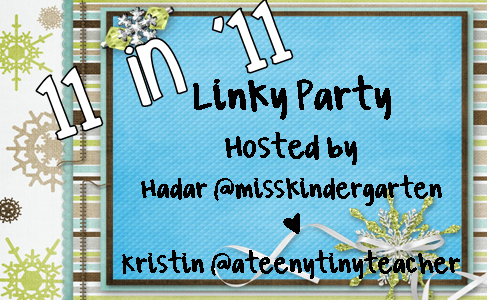 11. Favorite Movie I watched: I loved this movie for two reasons. First, it has penguins (I love all things arctic). Second, it is one of my most favorite read-alouds for 2nd grade. Even though the movie didn't stick to the book, it was still really good, you know for a family movie.
6. Favorite thing I've pinned: I know this is going to sound crazy, but I don't have a Facebook or a Twitter account. Therefore, I don't have a Pinterest. I have cruised on the front page and made a few cute things I saw there.
5. Favorite blog post: I have several favorites (the ones that still make me laugh a little when I go back and read them. But, one of my favorites comes from the blog I broke (I tried to get all fancy and didn't save) called Quarters in the Jar.
It's called That Ice Cube thing Really does Work
.
4. Favorite accomplishment: I passed the Praxis with 191/200 for my special education mild/moderate cross-cat certification. I studied really hard until the test day as I hadn't had a special education class since my undergrad. It felt so good to not just pass, but to really really pass (although I wish I had gotten a perfect).
3. Favorite picture: Is one I took of my daughter on a carousel last year. She isn't looking at the camera and is laughing. I love it.
2. Favorite memory: Seeing my kids run to their Nan and Poppy when they got off the plane from their summer-long mission trip to Russia. My monkeys were so excited to finally see them after they were gone all summer long.
1. Goals for 2012: Drink more water, slow down, don't procrastinate.